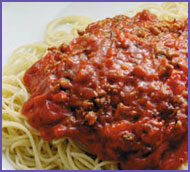 Indian Cooking Recipe : Burmese Spaghetti
Ingredients :

2 teacups boiled spaghetti
3 sliced onions
100 gms (4 oz.) French beans
2 carrots
2 tomatoes (cut into big pieces)
1 tbsp Worcestershire sauce
6 tbsp tomato ketchup
2 tbsp white vinegar
4 green chillies, chopped
½ tsp chilli powder
4 tbsp oil
salt to taste
3 tbsp chopped spring onions for decoration
Method :

Chop the French beans and carrots into long pieces and boil them.
Heat the oil in a vessel, put the onions and sauté until it turns golden brown.
Put the vegetables and tomatoes and cook for 4 minutes.
Put the spaghetti, Worcestershire sauce, tomato ketchup, vinegar, green chillies, chilli powder and salt and cook for a few minutes.
Garnish with chopped spring onions.
Ready to serve.