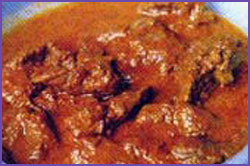 Indian Cooking Recipe : Chicken Curry With Potatoes
Ingredients:
1 1/2 kg Whole chicken
1/2 cup Vegetable oil
4 cloves Garlic, pounded
2 Medium-sized onion, finely sliced
2 tsp Paprika or chili powder
1 1/2 tsp Salt
1 tsp Sugar
1/2 tsp Ground turmeric (yellow powder)
2 Bay leaves
2 sticks Cinnamon
2 Cardamom pods
1 tbsp Garam masala
1 tsp Cumin seed
2 tbsp Plain yogurt
2 Medium-size potatoes, pealed & cut into 1/2 inch cubes
1/4 cup Tomato paste
2 cups Chicken broth
A few swigs of fresh mint leaves (Pusi-Nan)

Method:
Marinate the chicken with salt, sugar, ground turmeric & yogurt for about 30 minutes.
Heat the oil in a pan & fry the potatoes until golden brown. Remove the potatoes & set aside.
Add garlic, cardamom, paprika, cumin seed, bay leaves and cinnamon into the pan & stir-fry for 1 minutes. Add chicken & tomatoes paste and continue stir-fry over moderate heat for about 2 minutes.
Add chicken broth, fried onions and let it simmer over low heat for about 15 minutes or more until the gravy becomes thicken.
Add fried potato cubes & stir in garam masala and remove from heat.
Top with mince leaves & cover with lid for about 10 minutes before serving.
Ready to Serve.