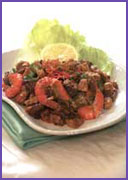 Indian Cooking Recipe : Coconut Prawn Curry Recipe
Ingredients:

750 g Raw prawns
1 tsp Ground turmeric
1 cup Roughly chopped onion
4 cloves Crushed garlic
1/2 tsp Paprika
1 tsp Red chili, seeded and finely chopped
Pinch Ground cloves
1/4 tsp Ground cardamom
1 tsp Finely chopped fresh ginger
3 tbsp Cooking oil
2 Tomatoes, diced
1 cup Coconut cream
2 tsp Fresh coriander leaves
Method:

Peel and devein the prawns, leaving the tails intact. Toss the prawns with the turmeric.
Place the onion, garlic in a food processor and process until a paste is formed.
Heat the oil in a deep-sided frying pan; carefully add the spicy paste, stir it into the oil and cook over low heat for 10 minutes.
If the mixture starts to burn, add a little water.
When the paste is cooked, it should be a golden brown color and will have oil around the edges.
Stir the prawn, tomatoes and coconut cream, and simmer for about 5 minutes or until the prawns are cooked.
Stir in the coriander, season with salt and serve with rice.