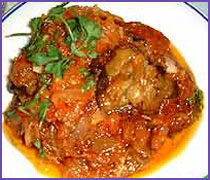 Indian Cooking Recipe : Billy Kee Chicken
Ingredients :

1.5kg chicken
3 egg yolks, lightly beaten
oil fro deep-frying
½ cup dry red wine
½ cup tomato sauce
1 tsp Worcestershire sauce
Method :

Cut chicken into serving seized pieces; remove skin, cut chicken from bones.
Chop chicken, combine with egg yolks; mix well.
Deep-fry chicken in batches in hot oil until lightly browned and just cooked through, remove from work; drain on absorbent paper.
Drain oil from work. Add combined wine, and sauces to work, stir over heat until sauce boils.
Stir in chicken pieces, simmer until heated through.