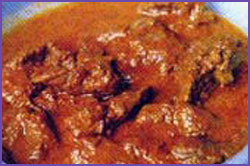 Indian Cooking Recipe : Chicken In Garlic And Tomato Sauce
Ingredients

1/2 kg of Chicken
1 tsp salt
1 tsp garlic paste
1 cup of tomato sauce
Oil
4 whole red chillies
1 chopped onion
1 pinch of ajinomoto
Method:

Take 1 tbsp of oil in non stick kadai.
Fry the chopped onions and the whole red chillies until it becomes pink in colour.
Add the marinated chicken and fry for about 5 to 10 minutes.
Then add the tomato sauce in it and cook it in slow flame covered with lid.
Adding a pinch of ajino motto and simmer it for sometime.
Garnish it with chopped spring onions and coriander leaves.