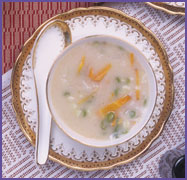 Indian Cooking Recipe : Chicken In Sweet And Sour Sauce
Ingredients :

250 gm diced chicken
1 tsp egg white
15 gm diced capsicum
15 gm diced tomatoes
15 gm diced onion
15 gm diced cucumber
15 gm diced pineapple
1 tsp chopped garlic
For the sauce :
2 tsp tomato ketchup
1 tsp white vinegar
1/2 tsp sugar
1/2 tsp salt
stock as required
1 tsp corn flour slurry. (250 g corn flour + 150 ml. Water)
10 g spring onion
500 ml oil
salt to taste
Method :

Marinate chicken (diced) with salt, corn flour and egg white.
Deep fry and keep aside
Heat oil in a kadhai and add the garlic and all the vegetables and toss
Add stock and the ingredients for sauce and cook for a minute
Add 1 tsp corn flour.
Coat the chicken with the sauce.
Garnish with chopped spring onion.