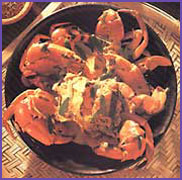 Indian Cooking Recipe : Crab In Ginger Sauce
Ingredients :
2 crabs
8 spring onion
10cm piece fresh ginger
¼ cup oil
½ tsp sesame oil
1 small red pepper, thinly sliced
½ cup water
2 tbsp dry sherry
2 tsp soy sauce
1 chicken stock cube
1 tsp sugar
2 tsp cornflour
¼ cup water, extra
Method :
Wash crabs. Gently pull away round hard shell at top.
With a small sharp knife gently cut away the grey fibrous tissue. Rinse again to clean crab.
Chop off claws and big nippers. Crack these lightly with the back of a cleaver to break through the hard shell.
This makes it easier to eat the crab meat. Chop down centre of crab to separate body into 2 halves.
Cut each half evenly into 3 pieces.
Cut shallots into 3cm lengths. Cut ginger into very thin strips.
Heat oil and sesame oil in work or pan, add ginger, stir-fry until fragrant. Add crab, stir-fry 1 minute.
Stir in red pepper, water, sherry, sauce crumbled stock cube and sugar, simmer, covered, 4 minutes.
Add blended cornflour and extra water, stir until sauce boils and coasts crab well.
Add shallots, simmer, uncovered, 1 minute.