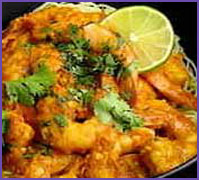 Indian Cooking Recipe : Crispy Noodles With Shrimps
Ingredients :
60 gm rice noodles (deep fried)
100 gm broccoli
50 gm diced paneer
30 gm carrot sliced
3 cups chicken stock
3 tbsp soya sauce
2 tbsp oyster sauce
1 tbsp sugar
1½ tsp chopped garlic
2 tbsp cornflour slurry
1 coriander sprig
oil to deep fry
cornflour to dust the paneer
pepper
Method :
Deep fry shrimps & paneer dices.
Deep fry the rice noodles and keep aside.
Pour 4 tbsp oil in a kadhai and add chopped garlic, fry till golden.
Add shrimps, paneer and saute.
Season with oyster sauce, soya sauce & sugar.
Pour in the stock, broccoli, carrots & cornflour slurry to thicken the sauce.
Pour into a serving dish, surround with crispy noodles and sprinkle extra pepper.
Serve with chillies vinegar.
Garnish with coriander sprig.