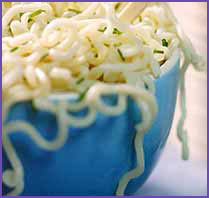 Indian Cooking Recipe : Fried Noodles
Ingredients :

250g egg noodles
oil for deep-frying
Method :

Add noodles to large pan of boiling water, boil, uncovered, 5 minutes or until tender.
Separate noodles with a fork during cooking.
Drain noodles well; spread out on oven tray which has been lined with absorbent paper; allow to dry.
Using tongs, drop small amounts of noodles into hot oil, deep-fry until golden brown, turning once.
Remove noodles from oil; drain on absorbent paper.
Repeat procedure with remaining noodles.