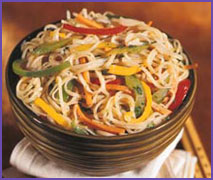 Indian Cooking Recipe : Hakka Noodles
Ingredients :

2 cups boiled flat noodles
3 dried red chillies
1 small bunch spring onion
1 small capsicum, thinly sliced
2 tsp garlic, finely chopped
½ tsp vinegar
salt to taste
1½ tbsp oil
tandoori colour
Method :

Chop the spring onions into ¼" pieces cut slanting. Pound red chillies and garlic coarsely.
Heat 1 tbsp oil, add chilli and garlic and fry for a minute. Add the capsicum and fry till tender. Add the spring onion and fry again for 2-3 minutes.
Add noodles and salt and mix well. Add tandoori colour and vinegar to taste.
Heat very well in oven or microwave before serving. Serve with schezwan sauce or manchurian in gravy.