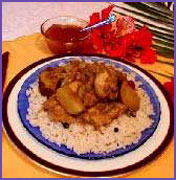 Indian Cooking Recipe : Lemon And Ginger Chicken
Ingredients :
For the lemon & ginger chicken
3 egg whites, lightly beaten
2 tbsp cornflour
2 chicken breasts, thinly sliced
oil for deep-frying
1 tbsp oil, extra
2.5cm piece fresh ginger, sliced extra
1 spring onion, finely sliced
For the Sauce :
¼ cup lemon juice
1 cup water
2 chicken stock cubes
1 tsp grated fresh ginger
1 tbsp honey
2 tbsp sugar
1 tbsp cornflour
1 tbsp water, extra
Method :
For the lemon & ginger chicken :
Combine egg whites and cornflour in bowl, add chicken; mix well.
Deep-fry chicken in batches in hot oil until golden brown and cooked through; drain on absorbent paper, keep warm.
Heat extra oil in work, add extra ginger, stir-fry 1 minute.
Add prepared sauce, simmer 2 minutes, pour sauce over chicken; top with shallot.
For the Sauce :
Combine juice, water, crumbled stock cubes, ginger, honey and sugar in pan, bring to boil.
Stir in blended cornflour and extra water, stir until sauce boils and thickens, simmer 2 minutes.