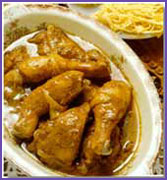 Indian Cooking Recipe : Lemon Chicken
Ingredients :
4 whole chicken breasts
½ cup cornflour
¼ cup water
4 egg yolks
oil for deep-frying
6 spring onion, chopped
For the lemon sauce :
2 chicken stock cubes
2 tbsp honey
2½ tbsp brown sugar
1 tsp grated fresh ginger
1¾ cups water
2 tbsp cornflour
½ cup lemon juice
Method :
Carefully remove skin from chicken. Using sharp knife, remove chicken meat from breasts to make 8 fillets.
Pound chicken lightly to flatten. Blend cornflour and water in bowl, add lightly beaten egg yolks; mix to a smooth batter.
Dip chicken into batter; drain away excess batter.
Deep-fry chicken in batches in hot oil until light golden brown and cooked through; drain on absorbent paper, keep warm.
Slice chicken fillets into 3 or 4 pieces, serve topped with lemon sauce and chopped shallots.
Lemon sauce: Combine crumbled stock cubes, honey, sugar, ginger, water and blended cornflour and juice in pan, stir over heat until the sauce boils and thickens.