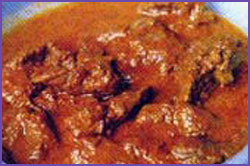 Indian Cooking Recipe : Marinated Chicken Wings
Ingredients :
6 spring onion, sliced
2 cloves garlic, crushed
2 tbsp soy sauce
2 tbsp dry sherry
1 tsp grated fresh ginger
1½ tbsp brown sugar
750g chicken wings
¼ cup oil
1 tbsp cornflour
¾ cup water
345g can of bamboo shoots, drained, sliced
1 chicken stock cube
Method :
Combine onion, garlic, soy sauce, sherry, ginger, sugar and chicken wings in bowl; mix well.
Stand 1 hour drain, reserve marinade.
Heat oil in work or frying pan, add bamboo shoots, stir-fry 2 minutes, remove from work.
Add chicken wings to work, stir-fry until golden brown.
Reduce heat, cook further 15 minutes or until chicken is cooked through.
Stir in blended cornflour, water, crumbled stock cube and reserved marinade, stir until sauce boils.
Add bamboo shoots, reduce heat, simmer further 2 minutes.