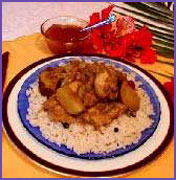 Indian Cooking Recipe : Paneer And Spinach Wonton
Ingredients :
2½ cup oil
1 tsp chopped garlic.
1 cup cottage cheese
½ cup shredded spinach
salt to taste
1 tsp white pepper powder
8-10 nos wonton skin
water ½ cup
Method :
Heat a little oil in a pan for stuffing.
First fry chopped garlic & onion in the pan. When brown add crumbled paneer and cook till dry.
Now add shredded spinach. Add salt and white pepper powder and mix well.
Place it in a bowl and let it cool.
Stuff wonton skin with this and seal with water from all 4 sides.
Deep fry wonton till light brown and place them in a serving dish.