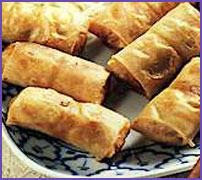 Indian Cooking Recipe : Pork And Lettuce Rolls
Ingredients :
60g dried mushrooms
1 tbsp oil
25og minced pork
6 green shallots, finely chopped
½ x 155g can water chestnuts, chopped
½ x 25og can bamboo shoots, chopped
155g can crab meat, drained
2 tsp sesame oil
1 tbsp soy sauce
2 tsp oyster sauce
2 tbsp dry sherry
8 lettuce leaves
Method :
Cover mushrooms with boiling water in bowl, stand 30 mint. Drain.
Remove mushroom stems, finely chop mushrooms.
Heat vegetable oil in wok or skillet, add pork, stir-fry until golden brown.
Add mushrooms, shallots, water chestnuts, bamboo shoots and crab, stir-fry 1 minute.
Add combined sesame oil, sauces and sherry to work, stir-fry until combined; remove from heat.
Divide pork mixture evenly between lettuce leaves.
Fold in ends and sides of lettuce leaves, roll up to form a neat parcel.
Generally the pork filling and lettuce leaves are served separately; guests can then fill and roll their own lettuce leaves.