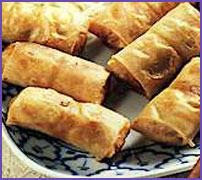 Indian Cooking Recipe : Spring Rolls
Ingredients :
2 tbsp conrnflour
½ cup water
455g packet spring roll wrappers
oil for deep-frying
For the filling :
500g green king prawns, onion
2.5 cm piece fresh ginger
½ cabbage
250g can water chestnuts, chopped
8 spring onion, chopped
1 red pepper, seeded, finely chopped
125g mushrooms, thinly sliced
500g minced pork
¼ cup dry sherry
1 tbsp soy sauce
1 tsp sugar
½ tsp salt
1 tbsp oil
Method :
Combine cornflour and water in bowl. Spoon a tbsp of filling evenly across one corner of each spring roll wrapper, fold in sides, roll up into an envelope shape, brushing edges with cornflour mixture.
Deep-fry spring rolls in batches in hot oil until golden brown and cooked through, about 5 minutes; drain on absorbent paper.
For the filling
Devein and chop prawns into small pieces; peel and grate ginger finely; shred cabbage finely; shred cabbage finely.
Put all prepared ingredients into bowl.
Add pork, sherry, sauce and sugar and salt; mix well.
Heat oil in pan, add pork mixture, cook, stirring, about 4 minutes.
Remove from pan; cool.