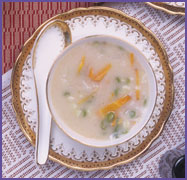 Indian Cooking Recipe : Szechuan Soup
Ingredients :
8 dried mushrooms
250g cooked prawns
7 cups chicken stock
½ cup dry white wine
1 tbsp soy sauce
½ tsp chilli sauce
2 tbsp cornflour
¼ cup water
125g ham, finely sliced
185g lean pork, finely sliced
30g Chinese pickles, finely sliced
½ x 225g can water, chestnuts, drained, sliced
½ red pepper, finely sliced
2 tsp vinegar
1 tsp sesame oil
1 egg, lightly beaten
1 tbsp water, extra
8 spring onion
250g bean curd, cubed
Method :
Cover mushrooms with hot water in bowl, stand 30 minutes.
Remove stems, slice mushrooms thinly. Shell and devein prawns.
Combine chicken stock, wine and sauces in large pan, bring to boil, boil, uncovered, about 5 minutes.
Gradually stir in blended cornflour and water, stir until soup boils.
Stir in mushrooms, ham, pork, pickles, water chestnuts and pepper, simmer, uncovered, 5 minutes.
Stir in vinegar and sesame oil. Gradually add combined egg and extra water to soup, stirring constantly.
Add shallots, bean curd and prawns, simmer 1 minute.