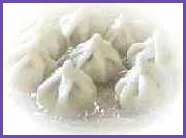 Indian Cooking Recipe : Modak
Ingredients :
2 plantains
¼ pav maida
1 pinch salt
2 cardamom pods
2 tsp sugar
ghee for frying
Method :
Peel plantains. Mash and put sugar, salt, powdered cardamom and maida.
Stir properly to make a dough.
Heat ghee in frying pan, drop small pellets of dough gently into ghee and deep fry till it turns reddish brown in colour.
Instead of ¼ pav maida, fine soji and rice flour mixed with maida (totally ¼ pav) can be used.