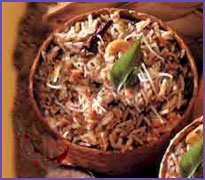 Indian Chicken Recipe : Chicken Fried Rice
This site provides you the information for Indian Cooking Recipes. Learn to cook this delicious Indian Chicken Recipe. Be tantalised with the wonderful Indian Chicken Recipes provided just for you! To see more of the Indian Chicken Recipes, click here.
Ingredients :
6 cups boiled Basmati rice
1 cup chicken
1/2 cup prawns cooked
1 egg
1/4 cup capsicum cut into fine strips
1 cup regular onion, chopped fine
1 cup spring onions, chopped fine
2 tablespoons of ginger-garlic paste
1 cup of mixed vegetables
soya sauce
chilli sauce
Method :
Make sure the rice isn't overcooked or mushy.
Add a little oil when boiling so that it doesn't stick together.
Fry the regular onions till light brown.
Add ginger-garlic paste and fry.
Add the rice and fry with soya sauce to taste.
You can add a little chilli sauce if you want.
Separately, lightly fry the pre-cooked meats with a little soya sauce.
Beat the egg thoroughly and fry separately, stirring constantly. Add to the rice.
Separately, lightly fry each vegetable and keep aside. Do not over fry or the vegetables will become soggy. They should remain slightly crisp.
Add the meats and vegetables to the rice and mix thoroughly.
Your delicious meal is ready.