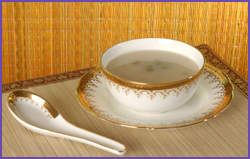 Indian Chicken Recipe : Chicken Soup
This site provides you the information for Indian Cooking Recipes. Learn to cook this delicious Indian Chicken Recipe. Be tantalised with the wonderful Indian Chicken Recipes provided just for you! To see more of the Indian Chicken Recipes, click here. Ingredients :

500 gms chicken bones
100 gms boneless chicken
(Skinned)
30 gms all purpose flour
1 tsp garlic, chopped
½ tsp cumin seeds
1 tsp white pepper powder
2 bay leaf
2 green chilies
½ tsp garam masala powder
salt to taste.
1 tsp oil
Method :

Clean and wash chicken bones.
Clean, wash and cut chicken into small pieces
Put chicken pieces in a deep pan. Add 1¼ liters water, chopped garlic, bayleaf, slit green chillies and bring it to a boil.
Boil for half an hour. Strain and keep aside.
Heat oil in a pan. Put cumin seeds when it crackle put flour, cook for a minute on a slow flame and then add reduced chicken stock, chicken pieces, white pepper powder, garam masala powder and salt.
Bring it to a boil and serve.