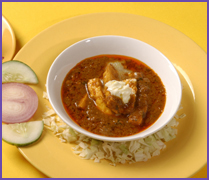 Indian Chicken Recipe : Chicken Yaakhni
This site provides you the information for Indian Cooking Recipes. Learn to cook this delicious Indian Chicken Recipe. Be tantalised with the wonderful Indian Chicken Recipes provided just for you! To see more of the Indian Chicken Recipes, click here.
Ingredients :
2 Chicken - cut into 8 pieces each
6- tbsp oil
4 tej patta, 10 laaung
7 tbsp saaunf, 4 tsp sonth powder
2- 1/2 tsp salt or to taste
5 cups curd- well beaten,
2 tsp garam masaala
2 moti illaichi
8 chhoti illaichi - coarsely powdered

Method :
Heat oil. Add tej patta and laung. Fry for 2-3 minutes
Add chicken. Fry for 3-4 minutes
Add sounf, sonth and salt. Fry for 2-3 minutes. Add cruched cardamons
Reduce heat. Add beaten curd. Mix well. Keep stirring till it boils
Cover and simmer on low heat till chicken is well cooked and some graavy remain.
Sprinkle garam masala and serve.