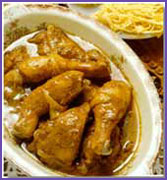 Indian Chicken Recipe : Dum Kokur
This site provides you the information for Indian Cooking Recipes. Learn to cook this delicious Indian Chicken Recipe. Be tantalised with the wonderful Indian Chicken Recipes provided just for you! To see more of the Indian Chicken Recipes, click here.
Ingredients :
1 chicken- cut into 8 pieces
5-6 tbsp oil
4-5 cloves
1 tej patta
1" dalchini
1 medium onion- sliced thinly
1" piece ginger - grated
For the Marinade :
3-4 tbsp curd
1 tbsp red chilli powder
1 tsp salt, or to taste, 1/2 tsp haldi
1 1/2 tbsp garlic paste, 1 tbsp ginger paste
Grind Together :
1/2 tsp jeera
2 moti ellaichi
2 chhoti ellaichi

Method :
Mix together all the ingredients of the marinade - curd, saunf, sonth, salt, red chilli, haldi, ginger and garlic paste, Add chicken. Let it marinate for 2 -3 hours.
Heat oil. Add laung, Dalchini and tej patta. Fry for 1-2 minutes
Add sliced onion and grated ginger. Fry till golden brown
Add chicken along with the marinade. Mix well
Add powdered jeera and cardmoms. Fry for 2-3 minutes.
Cover and cook on low heat for about 1/2 hour or till chicken turns tender. Serve hot with rice.