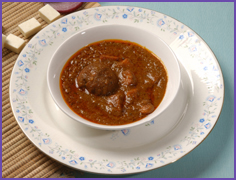 Indian Chicken Recipe : Green Chicken
This site provides you the information for Indian Cooking Recipes. Learn to cook this delicious Indian Chicken Recipe. Be tantalised with the wonderful Indian Chicken Recipes provided just for you! To see more of the Indian Chicken Recipes, click here.
Ingredients :
2 pound chicken
1 tbsp ginger paste
1 tbsp garlic paste
4 cloves
1 inch stick cinnamon
3 to 4 cardamom
2 dried red chillies
2 large onion
1 large tomato
10oz chopped spinach
oil enough to fry chicken
Method :
First wash chicken well & marinate in onion, ginger & garlic paste.
Heat oil & add the chillies, clove, cinnamon, and cardamom.
Once it is fried add the chicken mixture & fry till half done.
Meanwhile cook spinach with 2 tbsp water in microwave for 7-8 minutes.
Puree the spinach in a blender.
After frying chicken add the tomatoes & fry for another 3-4 minutes.
Now add the spinach & let it simmer for 20 minutes or till chicken is done.
The oil will separate once it is cooked.
Serve hot with roti or naan.