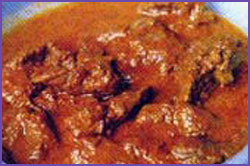 Indian Chicken Recipe : Green Chile-Stuffed Chicken Breasts
This site provides you the information for Indian Cooking Recipes. Learn to cook this delicious Indian Chicken Recipe. Be tantalised with the wonderful Indian Chicken Recipes provided just for you! To see more of the Indian Chicken Recipes, click here.
Ingredients :
4 boneless skinned chicken breast
3 ounces cream cheese
3/4 cups shredded Cheddar cheese
4 ounces green chiles
1/2 teaspoon chili powder
salt and pepper to taste
1 can cream of mushroom soup
1/2 cup hot enchilada sauce
Method :
Combine cream cheese, shredded cheese, chiles, chili powder and salt and pepper.
Place a generous dollop on each flattened chicken breast, then roll up.
Place chicken rolls in the slow cooker/Crock Pot, seam-side down. Top chicken breast rolls with remaining cheese mixture, soup, and enchilada sauce.
Cover and cook on LOW for 6 to 7 hours.