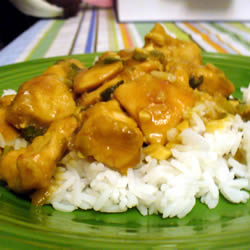 Indian Chicken Recipe : Green Curry Chicken
This site provides you the information for Indian Cooking Recipes. Learn to cook this delicious Indian Chicken Recipe. Be tantalised with the wonderful Indian Chicken Recipes provided just for you! To see more of the Indian Chicken Recipes, click here.
1 pound boneless chicken breast
1 tablespoon dark soy sauce
1 tablespoon all-purpose flour
2 tablespoons cooking oil
2 tablespoons green curry paste
2 green onions with tops, chopped
3 cloves garlic, peeled and chopped
1 teaspoon fresh ginger, peeled and finely chopped
2 cups coconut milk
1 tablespoon fish sauce
1 tablespoon dark soy sauce
2 tablespoons white sugar
Cut into 1 inch cubes then toss chicken first in 1 tablespoon dark soy sauce,
then in the flour, coating pieces evenly.
Heat the oil in a large skillet over medium high heat. Place chicken in the skillet,
cook and stir chicken until browned, about 5 minutes. Remove chicken.
Reduce heat to medium and stir in curry paste. Cook for 1 minute until fragrant,
then stir in green onions, garlic, and ginger; cook an additional 2 minutes.
Return chicken to the skillet, stirring to coat with the curry mixture.
Stir the coconut milk, fish sauce, 1 tablespoon soy sauce, and sugar into the chicken-curry mixture.
Allow to simmer over medium heat for 20 minutes until the chicken is tender.
Serve garnished with cilantro leaves.