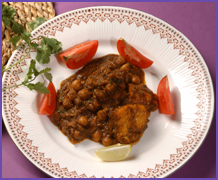 Indian Chicken Recipe : King Ranch Chicken Recipe
This site provides you the information for Indian Cooking Recipes. Learn to cook this delicious Indian Chicken Recipe. Be tantalised with the wonderful Indian Chicken Recipes provided just for you! To see more of the Indian Chicken Recipes, click here.
Ingredients :

3-4 cups cooked chicken, diced
1 pkg. (10-12) flour tortillas
1 med. onion, chopped
2 (10 oz.) cans cream of chicken soup
1 can tomatoes with green chilies
4 tbsp quick cooking tapioca
4 cups grated Cheddar cheese
Method :

In a large bowl mix chicken, soup, tomatoes, chilies and tapioca.
Rip 2 to 3 tortillas into pieces and line the bottom of a 5 quart slow cooker or crockpot. Add 1/3 of the chicken mixture; top with 1/3 of the onion and cheese.
Repeat layers of tortillas, chicken mixture, onion and cheese two more times.
Cover; cook on low for 6-8 hours or on high for 3 hours.
For a smaller 3 quart slow cooker or crockpot makes 1/2 recipe.
This is a good take-in dish or potluck.