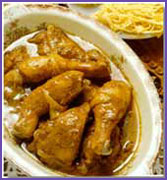 Indian Chicken Recipe : Murgh Tikka Haryali
This site provides you the information for Indian Cooking Recipes. Learn to cook this delicious Indian Chicken Recipe. Be tantalised with the wonderful Indian Chicken Recipes provided just for you! To see more of the Indian Chicken Recipes, click here.
Ingredients:
1 kg Boneless Chicken
5 tbsp Ginger paste
5 tbsp Garlic paste
2 tsp chilli powder
2 tbsp Garam Masala
¾ cup thick Dahi
½ cup thick cream
1 bunch coriander
1 bunch mint leaves
10-12 spinach leaves
3 tbsp lemon juice
salt to taste
oil for basting
Method:
Cut the chicken into 1½" chunks and marinate with salt, chilli powder and lemon juice, keep aside.
Grind the coriander, mint & Spinach leaves to a fine paste.
Mix this paste with dahi, cream, ginger and garlic pastes and the garam masala. Mix the paste with the chicken & leave in the fridge overnight.
Remove from the fridge atleast one hour before cooking.
Grill the chicken pieces on skewers or a grilling tray basting over with oil.
Cook until chicken is tender & browned on all sides.
Ready to Serve hot with chutney & onion rings.