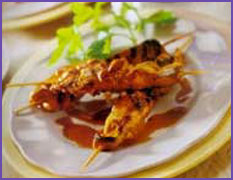 Indian Chicken Recipe : Mysorian Chilli Chicken
This site provides you the information for Indian Cooking Recipes. Learn to cook this delicious Indian Chicken Recipe. Be tantalised with the wonderful Indian Chicken Recipes provided just for you! To see more of the Indian Chicken Recipes, click here.
Ingredients :
300 gms chicken
1 tbsp oil
1/4th tsp turmeric powder
1 tsp salt
To be ground into paste :
15 gms whole dhania
5 gms whole jeera
5 gms black peppercorn
5 gms charmagaz
5 gms khus khus
5 gms saunf
5 gms mustard seeds
2 cloves
2 elaichi
50 gms onion sliced
25 gms green chillies slit & deseeded
4 tbsp oil
1/4 th tsp turmeric powder
140 ml water
Other Ingredients :
2 tsp oil
100 gms tomato puree
4-5 curry leaves
3-4 green chilli slit
Method :
Marinate the chicken for 10 minutes with 1 tsp oil, 1/4 th tsp turmeric powder & salt and keep aside.
Take 4 tbsp of oil in a pan and add all the ingredients and saute till light brown.
Add 140 ml. of water and remove from fire.
In another pan take 2 tsp of oil and saute the marinated chicken for 2-3 minutes and add 100 gms of above paste and cook.
Add 100 gms of tomato puree and some water to make gravy.
Bring to a boil and cook on slow fire for 5-6 minutes or until chicken is cooked.
Just before removing from fire add slit green chillies and curry leaves.
Mix well and remove from fire. Serve with steamed rice.