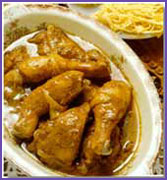 Indian Chicken Recipe : Quick Chick
This site provides you the information for Indian Cooking Recipes. Learn to cook this delicious Indian Chicken Recipe. Be tantalised with the wonderful Indian Chicken Recipes provided just for you! To see more of the Indian Chicken Recipes, click here.
Ingredients :
2 chicken legs
3 tsp chilli powder
1 tsp haldi powder
1 tsp dhania powder
1 tsp jeera powder
1 spoon garlic paste
3-4 small tomatoes
a handful of french beans
salt to taste
a loaf of fresh bread of your choice

Method :
Rub the salt and a little garlic paste into the chicken, and leave for 10 mins.
To save on cooking time, dump the chicken and beans into the cooker with some water and cook for 4-5 mins. after the whistle.
Once cooked, mix the spices and garlic paste all together.
Drain the chicken from its soup and keep aside to cool and dry for a few mins.
Once dry, rub the spicy mixture into the chicken.
Remove and keep aside the french beans to serve as they are.
Chop the tomatoes into quarters and fry them in oil.
Once softened, add the chicken and fry thoroughly.
Serve the chicken on a plate with the french beans on the side, with thick chunks of fresh loaf bread.