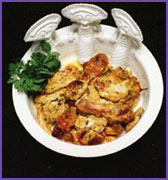 Indian Chicken Recipe : Roast Chicken
This site provides you the information for Indian Cooking Recipes. Learn to cook this delicious Indian Chicken Recipe. Be tantalised with the wonderful Indian Chicken Recipes provided just for you! To see more of the Indian Chicken Recipes, click here.
Ingredients :
1 kg chicken in cut pieces
1 tsp pepper powder
1-1/2 tsp jeera owder
2 tsp any ready curry masala.
1/4 tsp garam masala powder
1-1/2 tsp ginger-garlic paste
1 tsp salt
1 tsp vinegar
2 tbsp Oil
Whole spices :
2 elaichi
2 cinnamon
2 cloves
5 pepper corns
2 red chilles
2 bayleaves
Method :
Heat oil hot and fry the whole spices lightly and rub the powdered spices well onto the chicken pieces.
Fry the chicken pieces till all are lightly browned.
Put into the pressure cooker, and cook for one whistle.
Remove from cooker and dry up the slight gravy on high heat.
Serve hot, with salad.