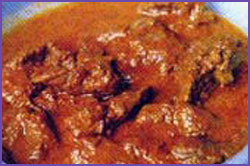 Indian Chicken Recipe : Rogan Josh (Chicken Curry)
This site provides you the information for Indian Cooking Recipes. Learn to cook this delicious Indian Chicken Recipe. Be tantalised with the wonderful Indian Chicken Recipes provided just for you! To see more of the Indian Chicken Recipes, click here.
Ingredients :
1kg Chicken
2 tbsp Vegetable Oil
0.30 cup Clarified Butter (Ghee)
2 cups Yogurt
2 Bay leaves
3 medium Onions
Masala for sauce
1/2 inch Cinnamon Sticks (flat)
11/2 tsp Aniseed (Saunf)
1 tsp Cumin Seeds (Cumin, Jeera)
4 medium Dry Red Chili
5 Cloves (Whole)
2 tsp Ginger Paste
1 pinch Saffron
Salt to taste
Method :
Cut chicken into large pieces.
Roughly chop onions and fry in oil, until brown. Then, make them into a paste.
Heat ghee in a wide skillet and fry chicken pieces, on high heat, until brown. Add yogurt and cook on high heat until all of it is absorbed and the meat looks dry.
Grind together the "masala for sauce" ingredients and add the mixture to the above. Also, add salt to taste, bay leaf, onion paste and fry for five minutes on medium heat.
Add 1 cup water and cook for fifteen minutes on low heat, until, you see oil coming to the top.