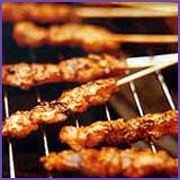 Indian Chicken Recipe : Sheekh Kababs
This site provides you the information for Indian Cooking Recipes. Learn to cook this delicious Indian Chicken Recipe. Be tantalised with the wonderful Indian Chicken Recipes provided just for you! To see more of the Indian Chicken Recipes, click here.
Ingredients :
To Grind Together
250 gms minced mutton
1/2 tsp salt
1/2 tsp gram masala
1/2 tsp red chilli powder
1/2 tsp sonth (dry ginger powder
1/2 tsp jeera (cumin) powder
1 tsp ginger paste
1tsp saunf (fennel powder)
1 moti illaichi (black cardamom) powdered
2 tbsp cornflour
1/4 tsp tenderiser or 1 tsp raw papaya paste

Other Ingredients :
1-2 tbsp oil for basting or brushing, 5 wooden or steel skewers

Method :
Grind all ingredients together in a mixer to a fine paste.
Divide mince into 5 parts. Take one skewer and one portion of the mince. Wrap the mince around the skewer. Press and smoothen to make a 3"-4" long kabab.
Place on a greased thali. Repeat with all the portions of mince.
Place the thali under the grill. After 5 minutes baste or brush the kababs with oil. Grill for about 15-20 minutes till they are evenly browned.
Push them off the skewers. Cut each into 3 pieces.
Serve with onion rings and lemon pieces.