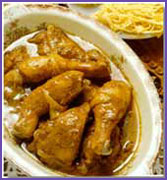 Indian Chicken Recipe : Sopa De Camarao
This site provides you the information for Indian Cooking Recipes. Learn to cook this delicious Indian Chicken Recipe. Be tantalised with the wonderful Indian Chicken Recipes provided just for you! To see more of the Indian Chicken Recipes, click here.
Ingredients :
250 g prawns, deveined
500 ml water
1 tbsp cornflour
250 ml chicken stock
1 tbsp oil
1 large onion, chopped fine
4 flakes garlic, chopped fine
1 large tomato, chopped fine
1 tsp grated cheddar cheese
Method :
Boil the prawns in 250 ml water, drain and set aside.
Chop fine. Dissolve the cornflour in a little chicken stock and set aside.
Heat oil on medium heat and sauté the onion, garlic and tomato, till a thick paste is obtained, stirring constantly.
Add the reserved water and the chicken stock.
Add the prawns and grated cheese.
Simmer on low heat for five minutes.