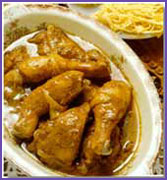 Indian Chicken Recipe : Sweet And Sour Chicken
This site provides you the information for Indian Cooking Recipes. Learn to cook this delicious Indian Chicken Recipe. Be tantalised with the wonderful Indian Chicken Recipes provided just for you! To see more of the Indian Chicken Recipes, click here.
Ingredients :
1/2 kg of Boneless chicken
2 lime
2 tbsp of sugar
1 pinch of Ajino motto
1 tsp of salt
1 tsbp of cornflour
1/2 tsp of Ginger Garlic paste
Oil
1 Chopped Onion
2 cloves Garlic, finely chopped
For garnishing :
2 celery leaves
Methods:
Mix the lime juice in it stir it for sometime and simmer it for sometime.
Keep it aside. Marinate the chicken pieces with cornflour, ginger paste and salt.
Heat the oil in non stick kadai. Fry the marinated pieces till brown in colour.
Keep it aside after its fried.
Try to make the chicken pieces if possible into finger shaped.
Fry the chopped onions, garlic till pink in colour.
Slow the flame and add the fried chicken pieces, adding the sweet and sour syrup for sometime.
Add the celery leaves into it. Simmer for sometime adding ajino motto in it.
Ready to serve.