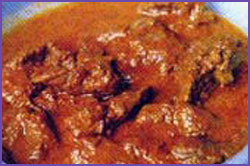 Indian Chicken Recipe : Tomato Chicken
This site provides you the information for Indian Cooking Recipes. Learn to cook this delicious Indian Chicken Recipe. Be tantalised with the wonderful Indian Chicken Recipes provided just for you! To see more of the Indian Chicken Recipes, click here.
Ingredients :
2 lb chicken cut into pieces
5 onions sliced finely
2-3 tbsp curd(unflavoured yoghurt)
1 1/2 tsp red-chilli pwd
2 -3 tsp coriander powder
1 tsp cumin pwd
2 tbsp coconut
3 tomatoes, pureed
2-3 cloves
1 " cinnamon
2-3 cardammoms
2 tbsp cashewnuts, ground with a little water to a paste
A bunch of Cilantro (Coriander leaves), chopped
Cooking oil
Method :
Deep fry the sliced onions in oil till they are properly browned.
Drain them, add the curd and blend the mixture with the cinnammon, cloves and cardammoms till smooth. Set aside.
Heat some oil in a pan and fry the above masala till the oil begins to separate.
Now add the dry powders and fry for 45 secs.
Add the pureed tomato and the chicken pieces.
Add some water and simmer till the chicken is cooked.
Add the cashewnut paste and bring to a boil.
Garnish with the chopped Cilantro. Eat when hot with rice or roti.