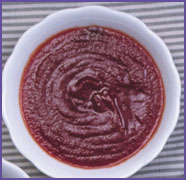 Indian Cooking Recipe : Khajur Imli ki Chatni
Ingredients:

2 cups dates (khajur), deseeded
¼ cup tamarind (imli), deseeded
1 cup jaggery (gur), grated
1 tsp chilli powder
a pinch asafoetida (hing)
salt to taste
Method:

Wash the dates and tamarind and keep them in a saucepan.
Put the jaggery, chilli powder, asafoetida, salt and 4 cups of water and allow it to boil for 20 to 25 minutes.
Cool and strain the mixture through a sieve.
Use whenever required. Keep it in a refrigerator.