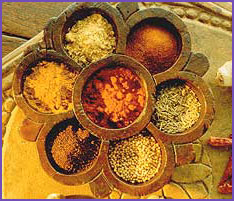 Indian Cooking Recipe : Meethi Soonth
Ingredients:
12 dried mango, sliced
½ cup grated jaggery (gur)
½ cup sugar
¼ cup dried dates (kharek)
¼ cup broken cashewnuts
2 tbsp sutanas
1 tsp chilli powder
½ tsp dried ginger powder (soonth)
1 tsp fennel seeds (saunf)
½ tsp roasted cumin seeds (jeera)
salt to taste
Method:
Soak the dates and cashewnuts in warm water.
Mix the mango slices, jaggery and sugar in a pan, using 1 cup of water and allow it to boil for 20 minutes till the mango slices becomes soft.
Cool completely and puree into a fine paste.
Drain the soaked dates and cashewnuts. Deseed and chop the dried dates
Store in a refrigerator. Use whenever required.