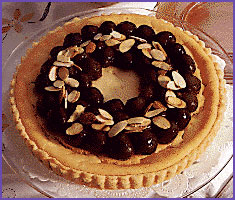 Indian Cooking Recipe : A Letria
Ingredients :

½ kg sugar
2 cups water
6 egg yolks
3 cups (700 g) grated coconut
4 slices fresh bread without crusts
2 tsp almond essence
2 to 3 raisins
2 to 3 almonds
Method :

Stir sugar and water together in a large pan on medium heat till the sugar dissolves.
Allow to simmer as you beat the egg yolks till they are creamy.
Put the egg yolk mixture into an icing bag with a thin nozzle.
Increase the heat to medium and drizzle the egg yolk mixture over the sugar syrup in a cobweb pattern, till all the mixture has been used.
Remove the pan and very carefully with two forks lift off the egg yolk cobweb and set aside carefully.
Now put the pan back on medium heat and add the coconut, read and essence to the sugar syrup.
Stir continuously till all the sugar syrup has been absorbed (about 15 minutes). Remove the pan and put the mixture onto a flat serving dish garnish with the egg-yolk cobweb, raisins and almonds.