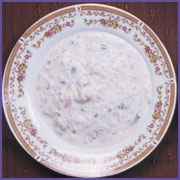 Indian Cooking Recipe : Baked Pudding
Ingredients :

600 ml milk
70 gm rice
4-5 tbsp sugar taste (or to)
1 tsp cinnamon powder
½ tsp nutmeg powder
For garnishing :
Fresh fruits of your choice
Method :

Soak the rice in water for 20 minutes. Heat the milk and remove half a cup.
Mix the nutmeg and cinnamon powder in this half-cup milk and return to the remaining milk.
Add the soaked rice and cook over a low heat till the rice is half cooked. Mix in the sugar and stir till the sugar melts. Transfer the pudding to a baking dish and bake at 180ºC for 45 minutes or until the rice is cooked and soft and the pudding is thick and set. Cook and garnish with fresh fruits and serve at room temperature or cold.