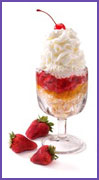 Indian Cooking Recipe : Banana Ice- Cream
6 bananas
2 litres milk
4 tbsp sugar
2 eggs

Boil milk on low flame till it becomes thick. Remove it and cool.
Peal off bananas and smash them. Add sugar, little milk and grind them in the mixture.
Beat eggs and mix it add banana shake into thickened milk. Mix well.
Refrigerate it in a bowl for 5 to 6 hours or till it is set. Delicious ice cream is ready.