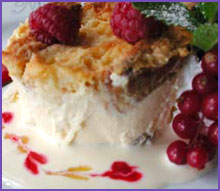 Indian Cooking Recipe : China Grass Pudding
1 packet china grass
½ cup sugar
½ litre milk
2 piece bread
Cashew and cherries
First soak china grass in warm water. Boil milk with sugar for 10-15 minutes.
Take ½ of total milk, bread and china grass and mix it properly.
Now mix this mixture with rest of the milk.
Grease a bowl with butter and pour the milk mixture into it.
Keep it in the oven for 40 minutes.
Serve chilled with cashews and cherries.