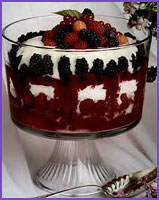 Indian Cooking Recipe : Hot Fudge Pudding
Ingredients :
115 gms plain flour
1½ level tsp baking powder
2 tbsp cocoa
160 gms powdered sugar
½ teacup milk
2 tbsp melted butter of margarine
1 teacup chopped walnuts
1 tsp vanilla essence
160 gms brown sugar
1 tbsp cocoa for sprinkling
a pinch salt
Method :
Sieve the flour, baking powder, cocoa and salt in a bowl.
Put the sugar, milk and melted butter. Put the walnuts and vanilla essence.
Grease a 225 mm. X 225 mm. (9" x 9") square tin and spread the mixture evenly in the tin.
Sprinkle the brown sugar and cocoa over the mixture.
Pour 2 teacups of boiling water over the mixture and bake in a hot oven at 400ºF for 20 minutes.
Cut into squares and spoon a little chocolate sauce on top.
Serve warm with vanilla ice-cream.