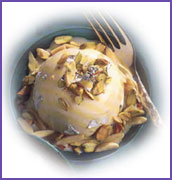 Indian Cooking Recipe : Pineapple Ice-Cream
Ingredients :

12 teacups milk
36 tsp sugar
6 level tsp custard powder
450 gms pineapple slices
1 tsp pineapple essence
100 gms fresh cream
Method :

Drain the pineapple slices and slice very finely.
Combine the custard powder in ½ teacup of cold milk.
Keep the rest of the milk to boil with the sugar.
When the milk starts boiling, put the custard powder gradually.
Cook for 2 minutes. Cool the mixture.
Put the essence, chopped pineapple and cream and mix properly.
Make the ice-cream in an ice-cream churner.