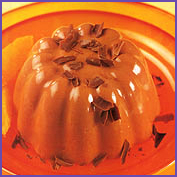 Indian Cooking Recipe : Port Wine Jelly
Ingredients :

300 ml port wine
60 g sugar
30 g gelatine
2 tbsp raspberry jelly
cochineal
60 ml water
Method :

Put water, sugar, raspberry jelly and gelatine into a pan and leave to soak for 5 minutes. Heat slowly until dissolved.
Add half the port wine and colour dark red with a few drops of cochineal.
Strain through double muslin; add the rest of the wine.
Pour into a wet mould.