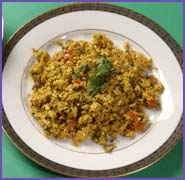 Indian Cooking Recipe : Egg Masala
Ingredients :
4 eggs, hardboiled and shelled
2 onions, sliced finely

To be mixed together with little water :
1 1/2 tsp chilli pwd
2 tsp coriander powder
A pinch of turmeric
1 tsp cumin powder
1 tsp garam masala
Salt to taste
1 tomato, chopped
1 tbsp Cilantro, chopped
2 tbsp gram flour
Cooking oil
Method:
Make 2-3 slits on each egg with a thin bladed knife and set aside.
Heat the oil and fry the onions till it becomes brown.
Now add the gram flour and fry till the gram flour is completely fried.
Add the powder paste and fry for 45 seconds. Add the tomatoes and Cilantro.
Add 1 cup of water and the eggs and keep it to boil.
Simmer for 5 minutes. Ready to serve.