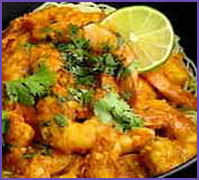 Indian Cooking Recipe : Fish Temperade
Ingredients :
1 cup assorted shellfish, cleaned
1 tbsp oil
3 dried red chillies or peppers
1 tbsp coriander seeds
1 tsp cumin seeds
1 cup grated coconut
2 large onions, chopped
6 flakes garlic, chopped
A small piece of ginger, chopped
3 tbsp tamarind pulp
1 tsp sugar
½ tsp turmeric powder
Salt to taste
Method :
Heat oil on medium flame and sauté the chillies, coriander and cumin seeds till they crackle.
Remove from heat. Grind the coconut, onion, garlic and ginger to make a fine paste.
Sauté the paste of ground coconut and spices in oil.
Stir-fry for one minute by adding water.
Add the tamarind pulp, sugar, turmeric powder and salt to taste.
Add the fish and cook till the sauce get thickens.