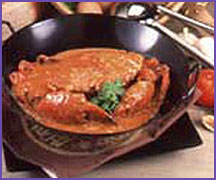 Indian Cooking Recipe : Fish in Green Masala
Ingredients :
1/2 kg fish (Pomfret or king fish)
1 onion chopped finely
1 cup curd
1/2" cinnamon
3 cardamom
5 green chillies, chopped
4 garlic flakes, minced
1/4" ginger, minced
1 cup coriander leaves, make a paste
1 tsp turmeric powder
1/4 tsp cummin seeds
3 tbsp oil
Salt as per taste
Method :
Wash fish and cut into big pieces. Heat oil in a pan.
Add cumin seeds. When splutter, add onions. Fry till golden brown.
Remove the pan from the fire. Arrange fish pieces in a pan.
In a bowl, beat the curd. Add all the remaining ingredients to the curd.
Mix it well. Pout the curd over the fish pieces.
Cover it and keep aside for 45 minutes. Put the pan on flame again.
Add ½ cup water. Cook till fish is tender. Serve hot.