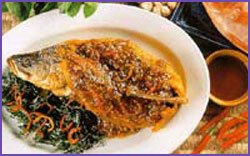 Indian Cooking Recipe : Fish in Mustard Sauce
Ingredients :
2 white fish fillets
3 tbsp oil
1/2 tsp salt
1/2 tsp turmeric powder
2 spring spring onions,
chopped finely
For Mustard Sauce :
1 tbsp butter
1 tbsp cornflour
3 tbsp dijon mustard
1 cup milk
Salt as per taste
Method :
Clean the fillets and make into serving pieces.
Marinate with salt and turmeric powder. Keep aside for ½ hour.
Heat oil in a pan and put the fish pieces and allow it to cook by stirring occasionally.
Cook till fish flakes easily. Remove and drain the fish fillets.
Arrange in the casserole. Heat butter in a pan and add cornflour and stir continuously till it becomes smooth.
Add milk and stir. Cook till it becomes thick.
Add salt and mustard and cook for 3 to 4 minutes. Remove from fire.
Pour the mustard sauce over the fillets. Garnish with chopped spring onions.