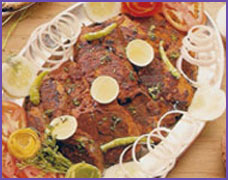 Indian Cooking Recipe : Gholu Fish in Curds
Ingredients :
3/4 kg gholu fish cut into big pieces
4 potatoes peeled
4 to 5 red dry chillies
4 flakes garlic
1/2 inch ginger
1 tbsp dry coriander seeds
1/2 tsp cumin seeds
1 onion, chopped finely
6 cardamoms
4 cloves
1 bay leaf
1 1/2 cup curds
2 1/2 tbsp oil
1 tbsp refined oil
salt to taste
Method :
Grind chillies, garlic, ginger, coriander and cumin seeds.
To get more aroma heat the coriander and cumin seeds before grinding.
Wash the potato pieces clean with water.
Prick each potato piece at a few places with a fork.
Heat the oil and fry the potatoes on medium fire till golden in colour.
Keep them aside.
In the same oil, put in the chopped onion and saute them till tender and transparent.
Add the ground lump of chillies, garlic, ginger, coriander and cumin seeds.
Fry till oil starts oozing out.
Put in the fried potato pieces.
Stir for a while and pour 1 1/2 cups of warm water.
When the potatoes are cooked to tenderness the gravy should come to a thickish consistency.
If necessary, a little more water should be added.
Put in the fish pieces and salt to taste.
Lower the fire and let it remain simmering.
Churn the curds which should be a little sourish.
Heat 1 tablespoon of the refined oil.
Season it with cardamoms, cloves and bay leaf and pour this seasoning over the churned curds.
Pour this spiced curds in the fish gravy, simmering on the fire.
Let the gravy be on fire for a few minutes.
Then remove from fire.
Transfer it to a nice serving dish.
Garnish it with chopped one green chilly and a little chopped coriander leaves.
Serve hot with steamed rice.