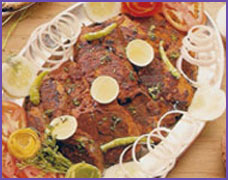 Indian Cooking Recipe : Hyderabadi Fish
Ingredients :
4 tbsp oil
2-3 cans of fish
For the paste :
5 red chillies
1 tsp turmeric powder
2 tsp aniseed(Saunf)
3 tsp cumin seeds
3 cm piece ginger
2-3 tbsp coconut
1 lemon size ball tamarind
2 bay leaves
4 green chillies, split
1 cup coconut milk
1/2 tsp sugar
1 tsp garam masala
Salt to taste
1 1/2 tsp melted butter
Method :
Heat the oil, add bay leaves, split green chillies and the blended mixture.
Fry till the oil begins to seperate. This will take around 10-12 minutes.
Add the fish, sugar and salt to taste. Add a little water and simmer it for a while.
Just before taking it off the fire, add the coconut milk and garam masala and bring it to a boil.
If you want, you can add melted butter to the dish to enhance the taste.